Why Are You Here?
You Searched Online in Google or Another App, And Found Sproutbox Garden, A Local Family Owned Canadian Company. Welcome!

You Are Researching And Looking Around For The Best Quality And Highest Rated Metal Raised Garden Bed System In Canada.

To Learn More About Sproutbox Garden Metal Raised Garden Beds And How We Support Locals in British Columbia To Shop Online.
17" Tall Modular 9 in 1
Regular price
$259.95 CAD
Regular price
Sale price
$259.95 CAD
Unit price
per
Sale
Sold out
Share With Friends
View full details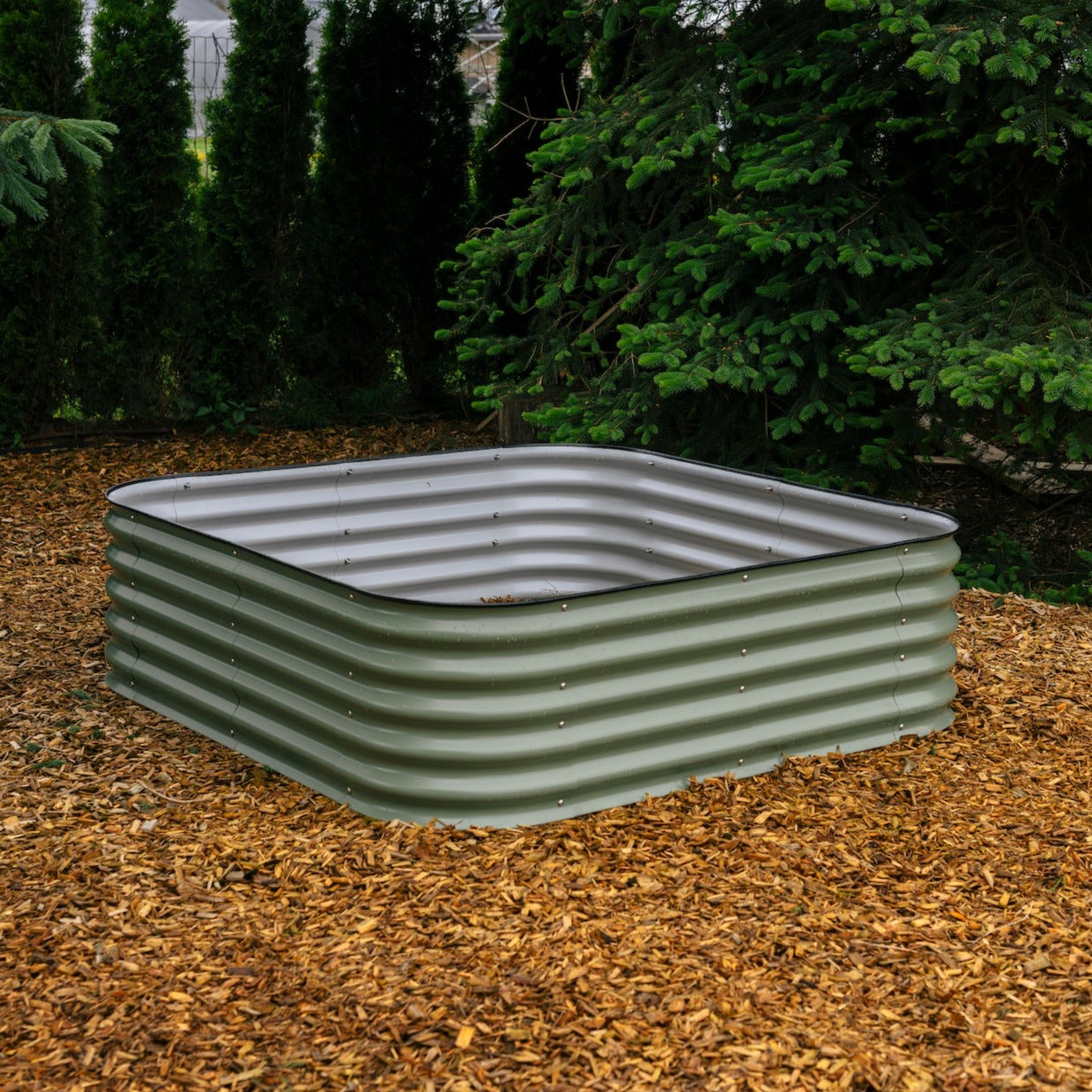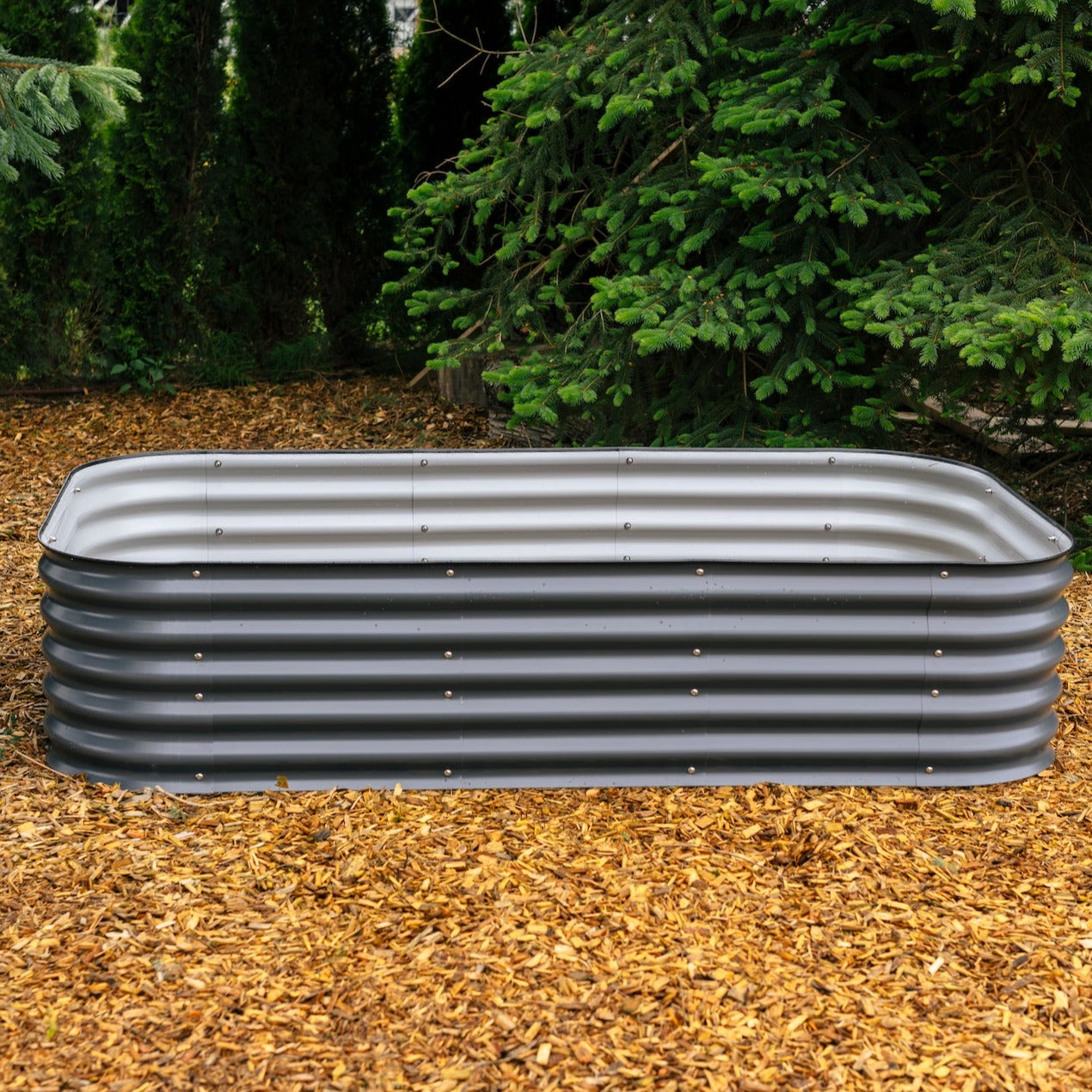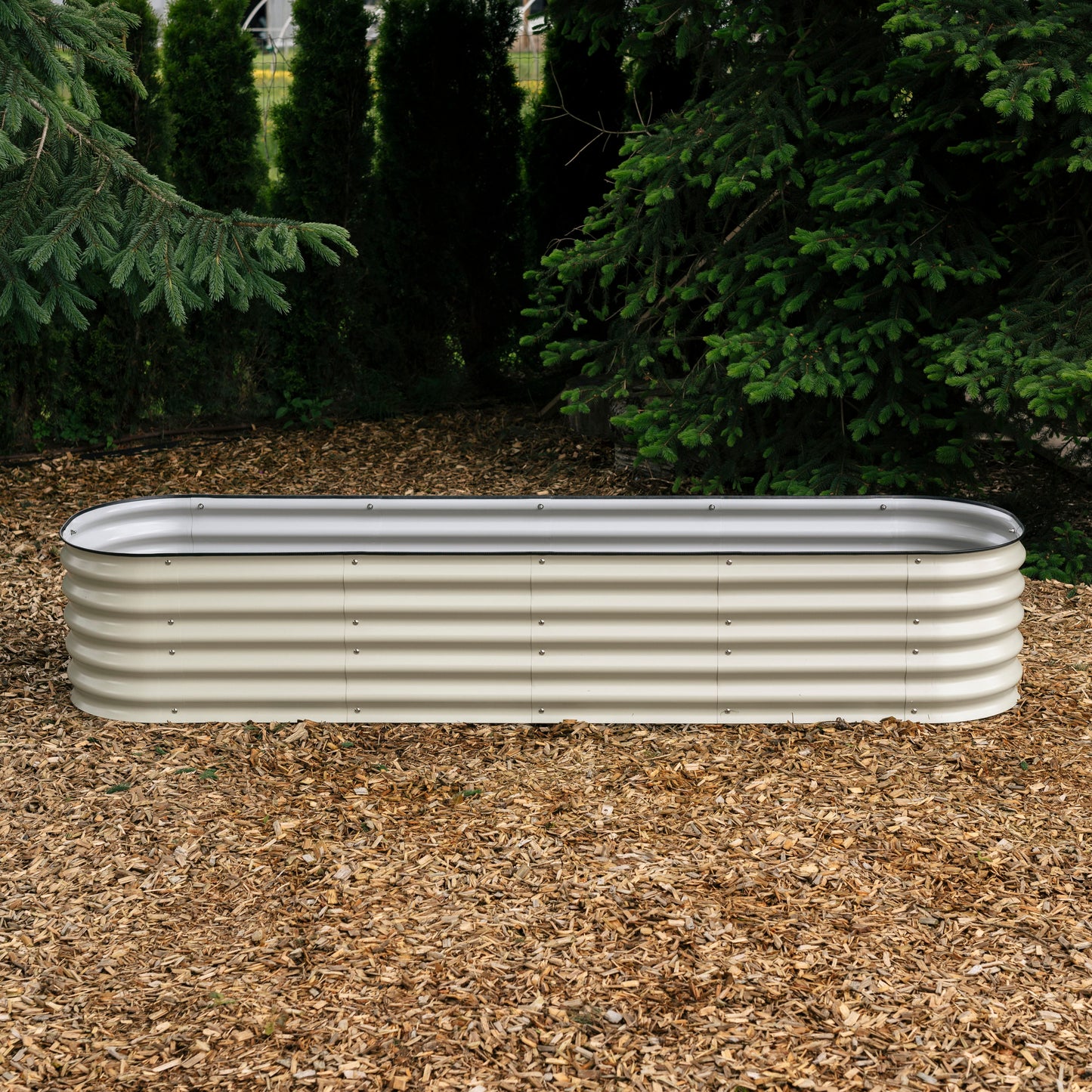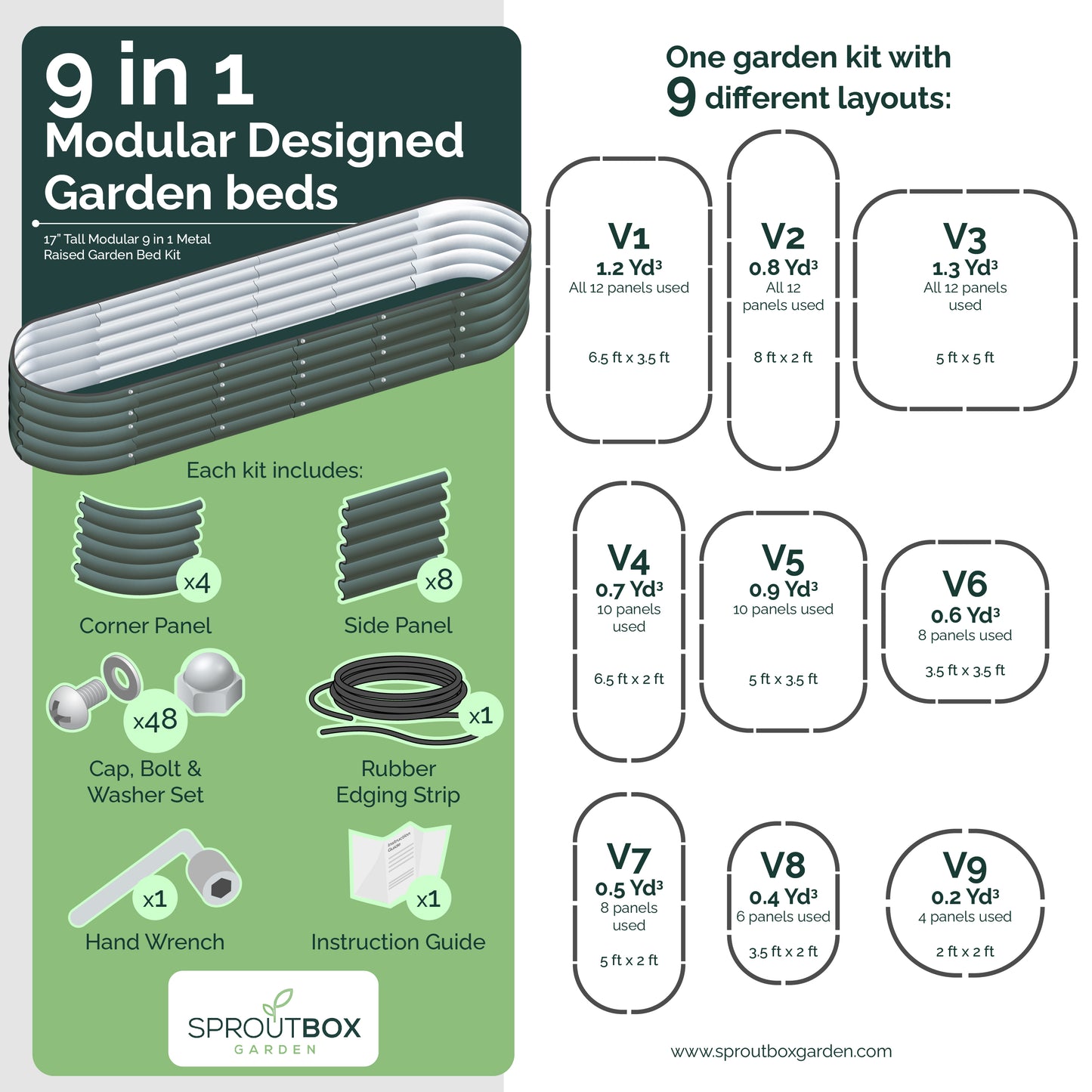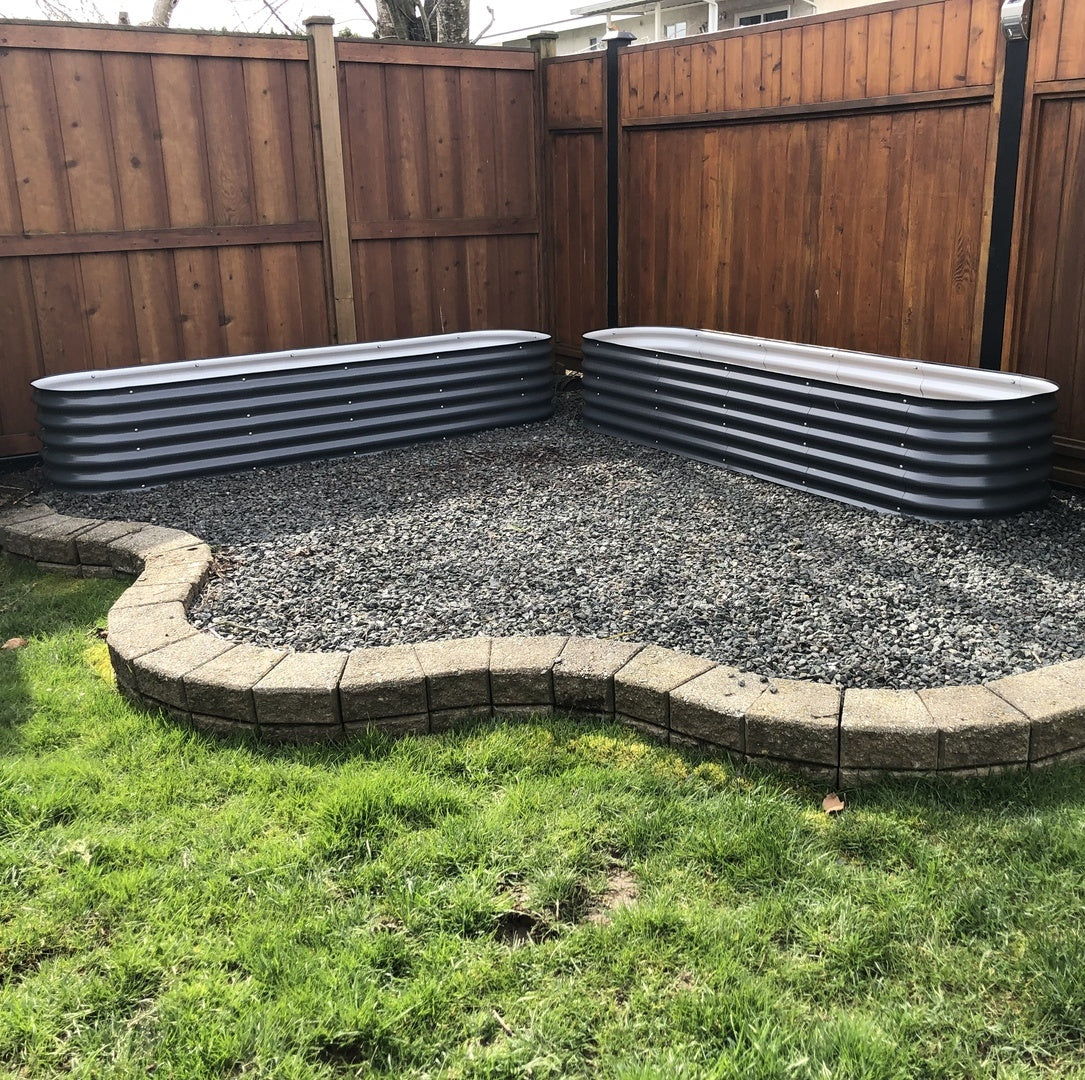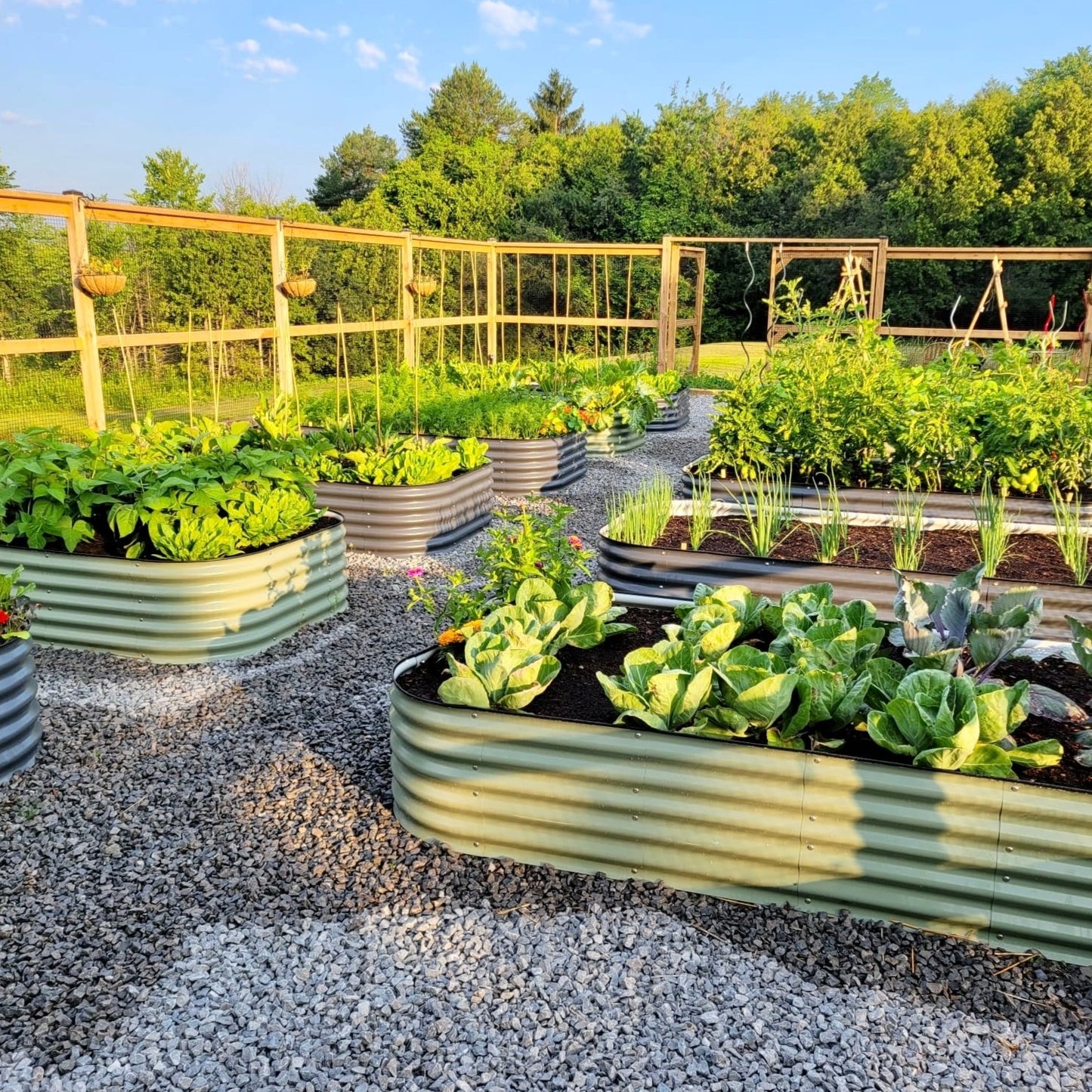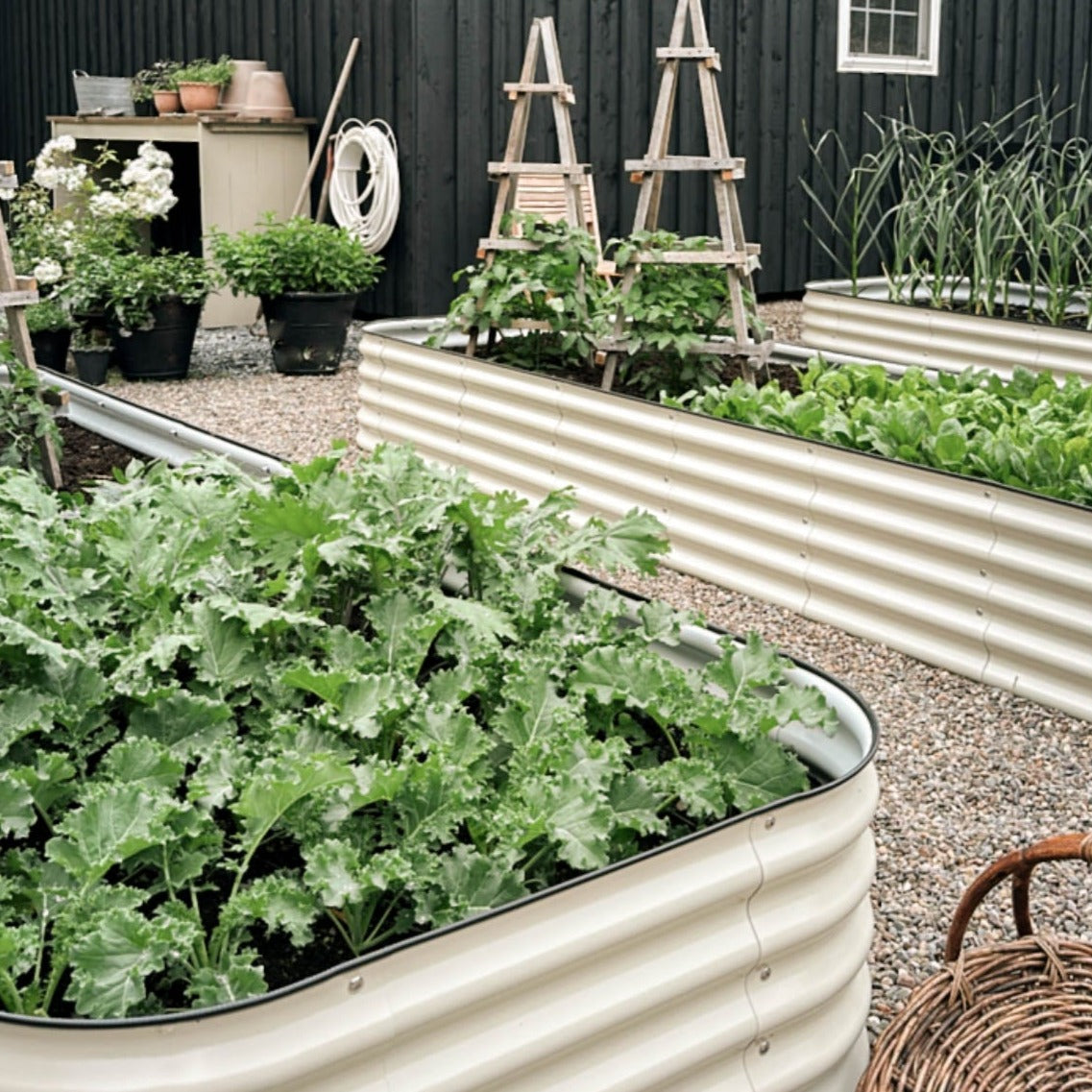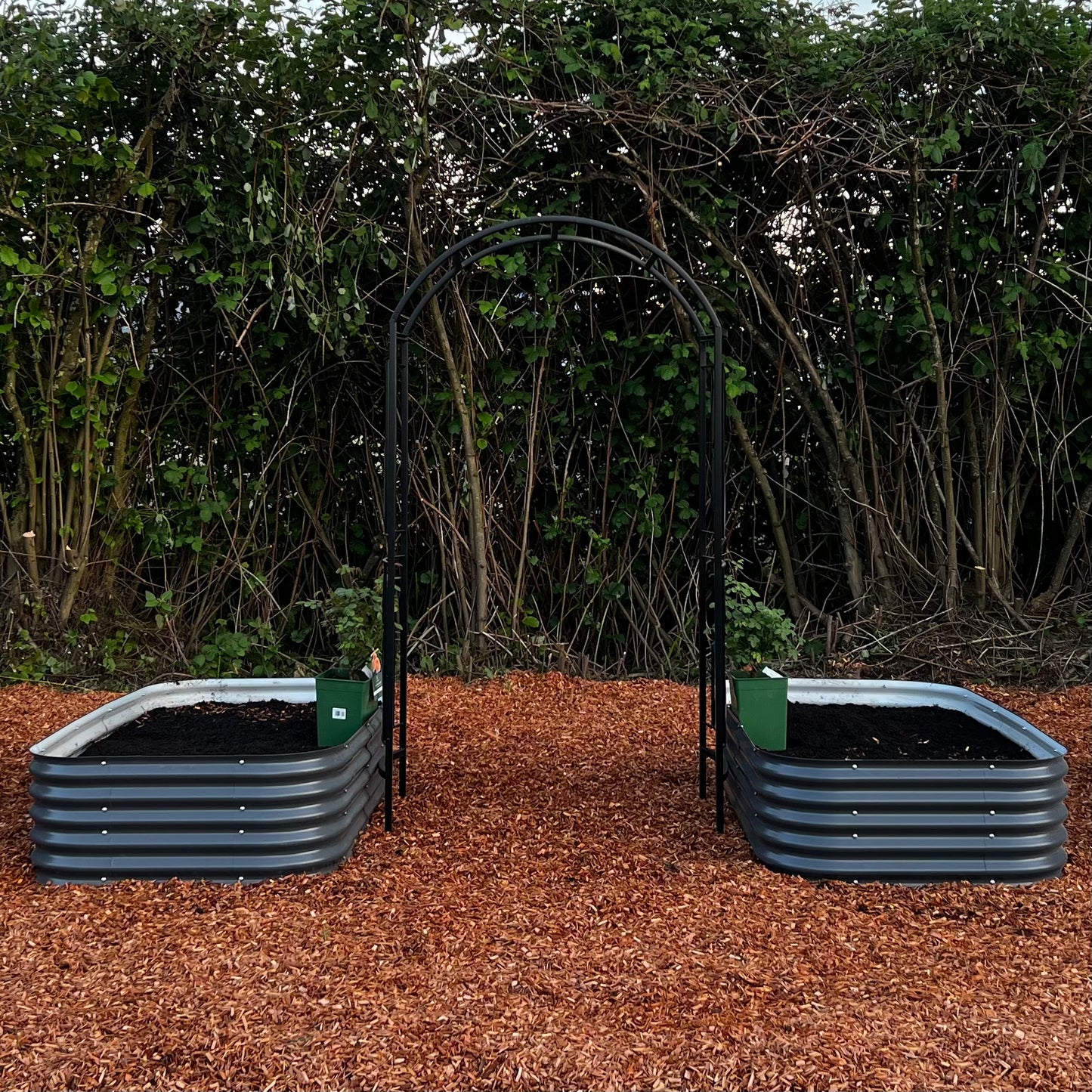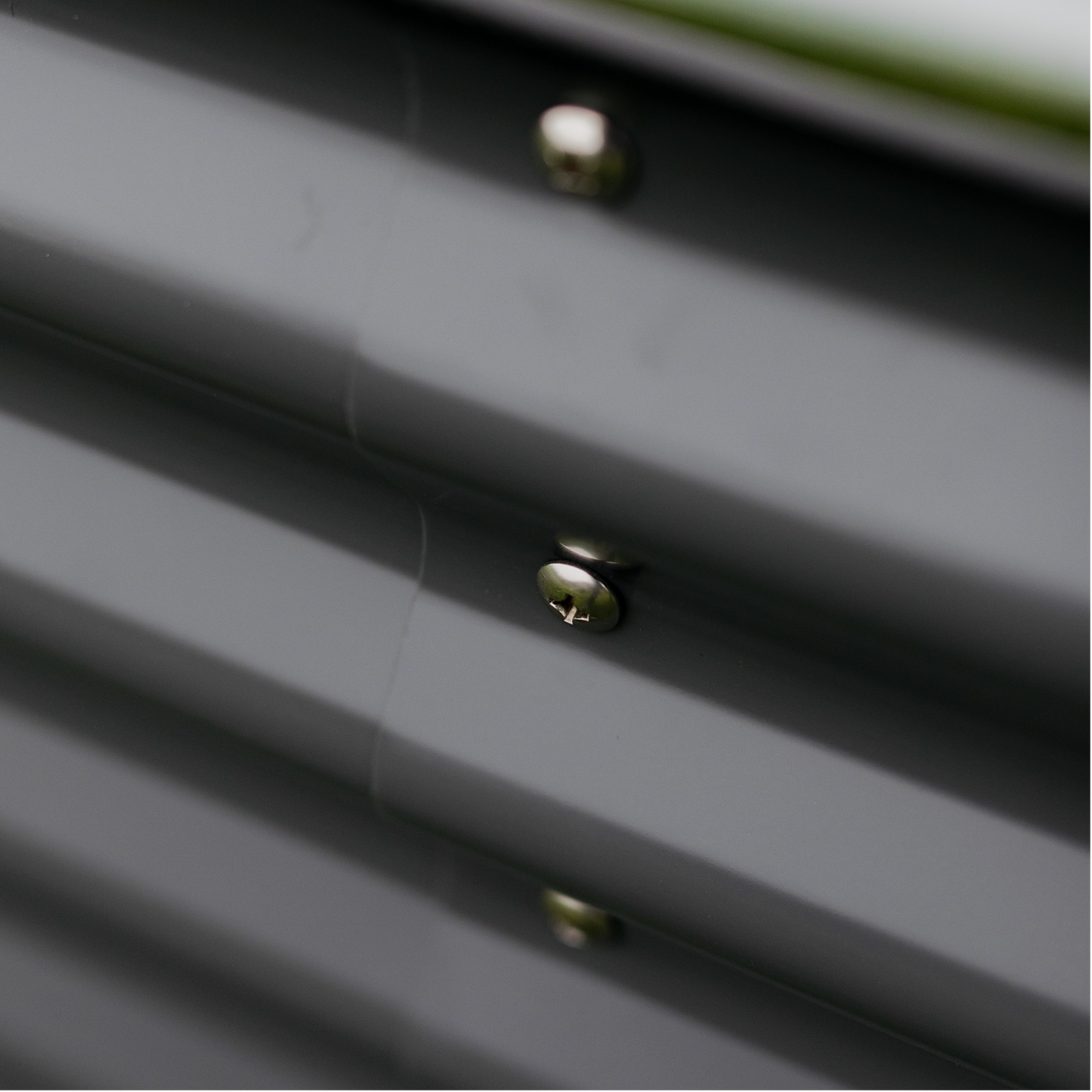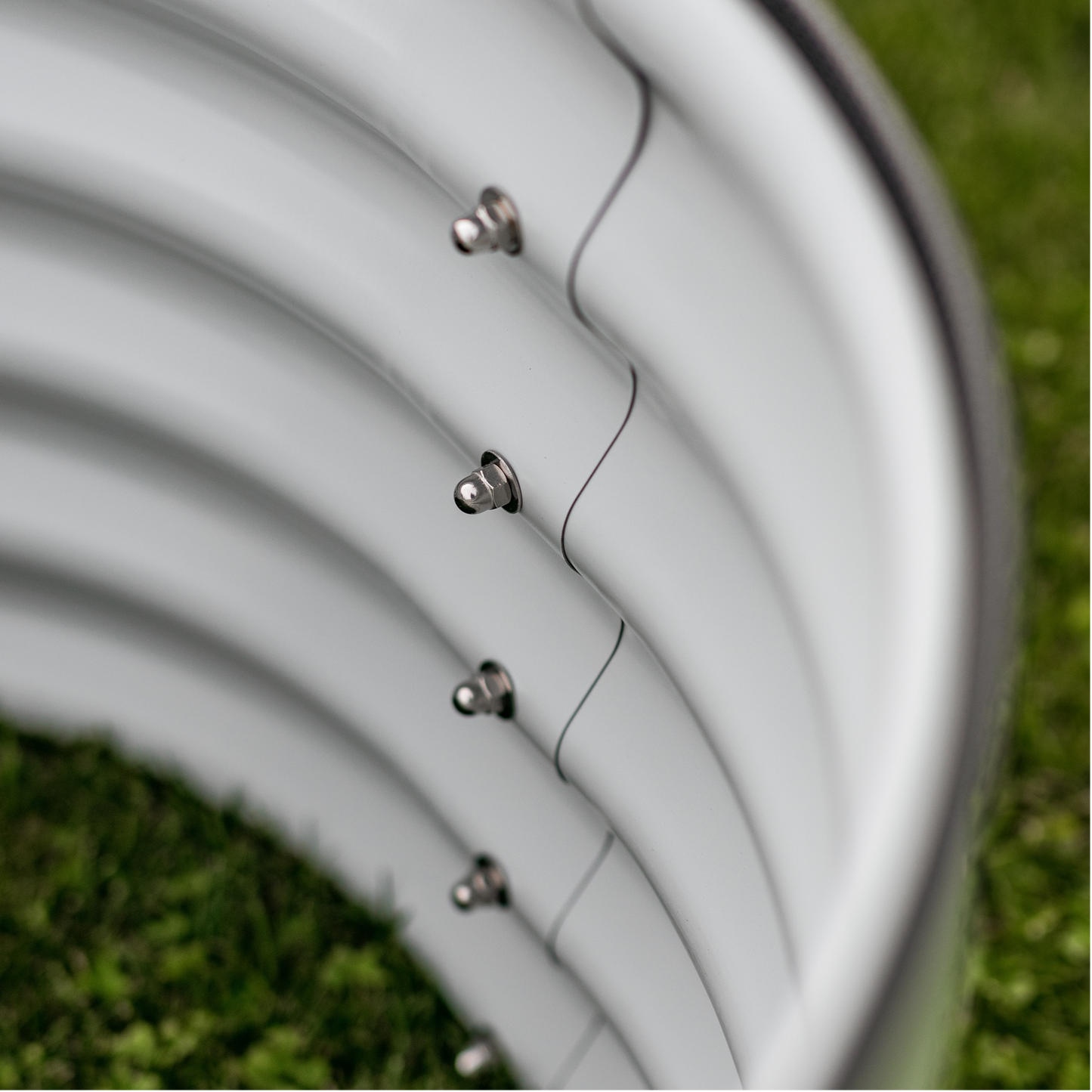 Sproutbox Garden FAQs
Benefits of Sproutbox Metal Raised Garden Beds

Explore the multitude of benefits that Sproutbox metal raised garden beds offer:

Durability and Resilience: Metal beds resistant to rust and corrosion, enduring BC's varying weather conditions, ensuring longevity.

Optimized for BC's Climate: Beds designed to manage BC's diverse weather, from heavy rains to fluctuating temperatures, for a thriving garden.

Sleek and Modern Aesthetic: Contemporary design that enhances garden appeal, suitable for diverse outdoor spaces from balconies to large yards.

Easy Assembly and Maintenance: Engineered for simple setup and low upkeep, allowing more time for gardening enjoyment and less on maintenance.

Improved Drainage: Designed to prevent waterlogging, promoting healthier plant roots, essential for areas prone to heavy rainfall.

Customization and Flexibility: Adaptable designs allowing effective space management, accommodating various plants and unique gardening needs.

Pest and Weed Control: Elevated designs that naturally protect against pests and weeds, promoting healthier and more vibrant plants.

Enhanced Soil Conditions: Allows customization of soil mix, catering to varied soil types across BC, improving conditions like pH levels and nutrients.

Sustainability: Encourages practices like water conservation and organic gardening, aligning with a commitment to a healthier planet.

Support and Guidance: Robust customer support ready to assist, offer expert advice, and guide gardeners through their gardening journey in BC.
Weather and Soil Considerations in British Columbia

British Columbia (BC) is blessed with a diverse range of climates and soil types, which makes it a fascinating place for gardening. However, these very diversities also present a unique set of challenges and considerations for gardeners in the region. At Sproutbox, our metal raised garden beds are meticulously crafted to help you navigate these complexities with ease and success. Here's a more detailed look into the weather and soil considerations in BC and how Sproutbox garden beds can make a difference:

Climate Zones:

BC encompasses various climate zones, ranging from Coastal, Interior, to the Rockies. The Coastal areas, such as Vancouver and Victoria, experience mild winters and cool summers, with substantial rainfall. In contrast, the Interior regions like Kelowna and Kamloops have hotter summers and colder winters with less precipitation.

Our Sproutbox metal raised garden beds are versatile and resilient, ensuring that they are suitable for each unique climate zone. They are designed to manage excessive moisture in the rainy coastal areas and maintain soil moisture in the drier interior regions.

Seasonal Variations:

Each season in BC brings different considerations. Spring is usually mild but can be unpredictable with occasional frosts or warm spells. Summers can range from mild to hot, with some areas facing water restrictions due to drought. Fall brings a decrease in temperatures and possibly early frosts, while winters vary significantly based on the region.

Sproutbox garden beds offer excellent insulation to soil and plants, protecting them from sudden temperature swings and frost. Their raised nature also helps in maintaining optimal soil temperatures, promoting a longer growing season.

Soil Types and Quality:

BC's diverse geography leads to various soil types, such as sandy, loamy, and clayey soils, each with distinct characteristics and gardening implications. Certain areas may also face issues like soil compaction, acidity, or poor drainage.

Sproutbox metal raised garden beds allow for the use of customized soil mixes, ensuring that your plants get the most suitable soil environment. It also facilitates better soil aeration and drainage, enhancing root health and overall plant growth.

Pest and Disease Management:

Weather conditions in BC can sometimes be conducive to pests and diseases. The warm and wet conditions, especially in coastal areas, may lead to problems like slugs, snails, and various fungal diseases.

The elevated design of Sproutbox garden beds can act as a barrier to some pests, making it harder for them to access your plants. It also promotes better air circulation, reducing the likelihood of fungal and bacterial diseases.

Watering and Irrigation:

Considering the water restrictions that some parts of BC face during hotter months, efficient water use becomes crucial.

Sproutbox garden beds are designed for efficient water use, preventing water wastage due to runoff and promoting deeper root growth through consistent moisture levels. This helps in establishing more resilient plants that can withstand periods of drought or water restrictions.
Cities and Towns We Serve in British Columbia

Sproutbox is thrilled to serve a multitude of cities and towns in British Columbia, enhancing the gardening experiences of their residents with our exceptional metal raised garden beds.

From the dynamic cityscapes of Vancouver, Surrey, and Burnaby, to the enriched communities of Richmond, Abbotsford, and Coquitlam, our garden beds flourish in the diverse urban gardens of these populous cities. Thriving in the heartlands of Kelowna, Langley Township, Saanich, and Delta, our products are a boon to gardeners facing varied weather patterns and soil conditions.

Stretching across to Kamloops, North Vancouver District, Nanaimo, Victoria, and Chilliwack, Sproutbox ensures that gardeners encounter innovation and quality in their gardening pursuits. Our presence resonates in Maple Ridge, New Westminster, Prince George, Port Coquitlam, Langley City, Vernon, Mission, and beyond, fostering a robust gardening community.

We cover a vast geography, serving cities and towns including Penticton, Campbell River, North Vancouver City, West Kelowna, Port Moody, Courtenay, Langford, White Rock, Cranbrook, and Squamish. The reach of Sproutbox extends even further into Oak Bay, Sidney, Pitt Meadows, Salmon Arm, Colwood, Powell River, Summerland, Central Saanich, Prince Rupert, Esquimalt, and Comox.

From Parksville to Fort St. John, and from Terrace to Ladysmith, our commitment to quality and community is evident. Gardeners in Sechelt, Dawson Creek, Qualicum Beach, Quesnel, Williams Lake, Sooke, Castlegar, Trail, Nelson, and Gibsons also benefit from our innovative gardening solutions.

Even in smaller towns like Creston, Merritt, Sidney, Duncan, Enderby, Revelstoke, Lake Country, West Vancouver, North Cowichan, and Alberni-Clayoquot District, Sproutbox is a household name, enhancing gardening practices and outcomes.

Our impact resonates across BC, reaching Fort St. James, Vanderhoof, Kitimat, Smithers, Houston, Lillooet, Burns Lake, Cache Creek, Clearwater, Barriere, McBride, Valemount, Ashcroft, 100 Mile House, Clinton, Fraser Lake, Gold River, Zeballos, and Tahsis, marking our extensive footprint in nurturing the province's gardening landscape.

Our goal is to deeply root our quality and innovation in every corner of British Columbia, ensuring that each city and town's unique gardening needs are met with expertise and exceptional products. Sproutbox is unwavering in its commitment to nurturing the gardens of BC, from its vast cities to the quaint, charming towns.
Things to Keep in Mind for Metal Raised Garden Beds

Investing in a metal raised garden bed offers a fantastic opportunity to create a productive and aesthetically pleasing garden space, which is particularly advantageous given the varying climates and terrain in British Columbia (BC). Here are expanded considerations for optimizing the use of metal raised garden beds:

Location and Sunlight Exposure:
Select a location for your metal raised bed that benefits from ample sunlight, ideally receiving 6 to 8 hours of direct light daily. Account for the seasonal movement of the sun and potential shading from buildings or trees that could impact light availability, ensuring consistent sun exposure for your plants.

Soil Quality and Drainage:
Invest in premium soil that's appropriate for the plants you wish to grow in your metal raised bed. Good drainage is crucial, yet the soil should retain enough moisture to support plant health. Tailor your soil mix to counterbalance the native soil conditions across different regions in BC to foster optimal plant growth.

Adapting to Weather and Microclimates:
The distinct weather patterns of BC, ranging from damp coastal areas to the dry interior, necessitate adaptable gardening methods. Tailor your approach to the unique microclimate of your location, considering how local weather variations influence temperature, rainfall, and wind.

Plant Selection:
Opt for plant species that are inherently suited to the local climate and soil conditions of your area in BC. Indigenous species and plants that have adapted to your region will generally prosper with less upkeep and water use.

Irrigation and Water Conservation:
Incorporate a water-efficient irrigation setup to deliver consistent moisture to your plants, which is particularly vital during BC's drier spells. Utilize water-saving methods like collecting rainwater to align with the diverse climate considerations throughout the province.

Managing Pests and Diseases:
Prepare for common pests and diseases that could impact your metal raised bed garden. Employ natural repellents, physical barriers, or environmentally safe pesticides to keep your garden in top health. The various ecosystems in BC each have their unique pest challenges that require careful and strategic handling.

Optimizing Bed Size and Depth:
Make sure your metal raised beds have adequate depth to accommodate the root systems of your chosen plants, promoting robust growth. The beds should also be of a practical width so that you can reach across easily without stepping into the bed, ensuring ease of access for maintenance.

Seasonal Adjustments:
Apply mulching techniques to regulate soil moisture and temperature, especially in BC locales with significant temperature shifts. Utilize season extenders like cloches, row covers, or cold frames to protect your plants during the colder months.

Sustainability Practices:
Adopt sustainable gardening practices, such as composting and selecting non-toxic construction materials for your raised beds. These practices ensure your gardening is environmentally conscious, aligning with BC's widespread commitment to ecological stewardship.

Engagement with Local Gardening Communities:
Tap into BC's rich community resources for gardeners. From local gardening clubs to online forums and neighborhood nurseries, these networks offer invaluable advice, support, and region-specific information that can enhance your metal raised bed gardening experience.
Frequently Asked Questions For British Columbia

What types of plants thrive best in metal raised garden beds in different parts of BC?
Hardy vegetables, herbs, and ornamental flowers adapted to BC's microclimates thrive in metal raised beds.

How does the climate in BC affect the plants that can be grown in metal raised garden beds?
BC's climate influences plant selection for metal beds, favoring those suited to its varied temperatures and precipitation.

How do metal raised garden beds handle drainage, especially in the rain-prone regions of BC?
Metal raised beds offer excellent drainage with proper construction, beneficial in BC's wet regions.

What kind of maintenance is required for metal raised garden beds in BC's varying climates?
Maintenance for metal beds in BC involves regular inspections for rust and ensuring good soil health.

How resistant are metal raised garden beds to rust and deterioration in BC's humid coastal areas?
Metal raised beds are rust-resistant with galvanized or powder-coated materials suitable for BC's coastal humidity.

What are the benefits of using metal raised garden beds in BC compared to traditional garden beds?
Benefits of metal beds in BC include longevity, pest resistance, and improved soil conditions over traditional beds.

Are metal raised garden beds suitable for all regions in BC, including coastal, interior, and northern areas?
Metal beds suit all BC regions with appropriate plant selection and soil temperature management.

How do I regulate soil temperature in metal raised garden beds during BC's diverse seasonal changes?
Soil temperature is regulated in BC metal beds with mulches, covers, and strategic placement.

What kind of soil is most suitable for metal raised garden beds in BC?
Well-draining, nutrient-rich soil blends are ideal for metal beds in BC to support diverse plant life.

How can pests and diseases common in BC be managed or prevented in metal raised garden beds?
Good hygiene and physical barriers manage BC pests and diseases in metal beds.

Are there any specific considerations for setting up metal raised garden beds in urban vs. rural areas of BC?
Urban BC metal beds may need more soil amendment, while rural areas might offer more space and plant options.

What is the ideal depth and size of metal raised garden beds for growing vegetables and flowers in BC?
A depth of 12-18 inches is ideal for BC metal beds to accommodate most vegetables and flowers' root systems.

How do metal raised garden beds fare during the winter months in different parts of BC?
In BC winters, metal beds can be covered or planted with cold-hardy crops for year-round gardening.

Can metal raised garden beds be used for sustainable and organic gardening practices in BC?
Metal beds support sustainable practices in BC with proper non-toxic materials and organic soil management.

What are the best practices for watering plants in metal raised garden beds, considering BC's water regulations and climate?
Efficient watering practices in BC metal beds include drip irrigation and timing to comply with local regulations.

How can one maximize the growing season using metal raised garden beds in BC's various climate zones?
Extending the growing season in BC with metal beds involves using covers and choosing season-appropriate crops.

Is it necessary to rotate crops in metal raised garden beds to maintain soil health and fertility?
Crop rotation is essential in metal beds to prevent disease and maintain soil health in BC.

How do metal raised garden beds contribute to water conservation in BC's dryer regions?
Metal beds aid in water conservation in BC's arid regions through targeted watering and reducing runoff.

Are there any local BC regulations or guidelines to consider when installing metal raised garden beds?
Local BC guidelines for metal bed installation may pertain to construction, placement, and water use.

How can I utilize metal raised garden beds to create a pollinator-friendly garden in BC?
BC pollinators benefit from diverse, flowering plants in metal beds with pesticide-free practices.

What precautions should be taken to prevent leaching of metals into the soil in metal raised garden beds?
Preventing metal leaching involves using coated beds and avoiding acidic soils in BC.

How do metal raised garden beds affect soil pH, and how does it impact plant growth in BC?
Metal beds can alter soil pH, impacting plant growth, thus requiring regular pH testing and amendments in BC.

Can metal raised garden beds be used to grow food plants safely and effectively in BC?
Yes, metal beds can safely grow food in BC with appropriate materials and soil management.

Are there any resources or communities in BC that support gardeners using metal raised garden beds?
BC gardening communities offer workshops, online forums, and local garden clubs for metal bed users.

How do I choose the right location for setting up a metal raised garden bed in BC considering sunlight and shading?
The right BC metal bed location offers six to eight hours of sun with consideration for shade patterns.

Can metal raised garden beds help in managing invasive species commonly found in BC gardens?
Metal beds can reduce invasive species in BC by providing controlled environments with select plantings.
Buy Local, Shop Online
Sproutbox Garden Metal Raised Garden Beds Are Perfect For The Weather and Soil Conditions in British Columbia, Learn More About Our Modular Garden Bed System And Support A Family Owned Company
SHOP ONLINE